Welcome to Starfleet One!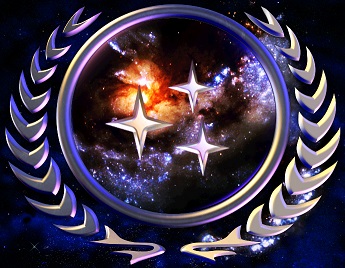 Following the horrific death of President Lesia Enaren during the destuction of the Vulcanis Lunar Colony, Ambassador Gruzy of the Xindi has been elected President of the United Federation of Planets following one of the most bitter elections in modern history. It is a time of rebuilding as many have lost trust in the Federation Council and its leadership in recent years as more and more rights have been infringed in the name of progress. As darkness has grown throughout the galaxy, the growing specter of corruption has become evident within the Federation itself. The Core Worlds have continued to grow in peace and prosperity while for the worlds on the Frontier every day is a struggle to survive. Meanwhile, old friends and enemies have joined together to strike a new claim on the galaxy, intent upon leaving the Federation broken in their wake.

With the shadow of Vulcanis looming over them, the fallout of the Romulan/Vulcan reunification still fresh, not to mention the risk of war with the Klingons, the first duty of the Gruzy Administration is to restore faith in the Federation and its values. Then there are the more internal threats previously unimagined: a Federation Council that is unsupportive of the new President and has an agenda of its own. Theirs is a story different than any other in the final frontier as they navigate the scandals, threats and political scuffles that the Federation faces every day. Every decision that's made, every action taken by this intrepid men and women will affect countless lives throughout the galaxy both now and beyond…


---

This game is a proud member of ZODIAC FLEET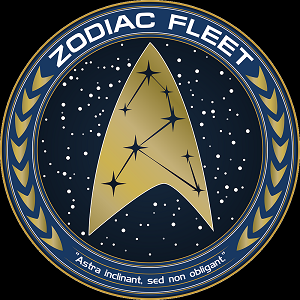 ---
This game has been voluntarily rated:
This game features adult language (but with some limitations), sexual content is permitted (with some limitations), and violence may be depicted, but with limitations.
Despite this the game does not permit players under age 18 at present time and reserves the right to implement a trial period on any new players and/or remove players if needed.
---
Star Trek and all related marks, logos and characters are solely owned by CBS Studios Inc. This fan production is not endorsed by, sponsored by, nor affiliated with CBS, Paramount Pictures, or any other Star Trek franchise, and is a non-commercial fan-made production intended for recreational use. No commercial exhibition or distribution is permitted. No alleged independent rights will be asserted against CBS or Paramount Pictures.
Latest News Items
Posted on Sat Mar 6th, 2021 @ 4:12am by Admiral Willian Targaryen in General News
Posting Guidelines

This game is designed to be a safe, engaging, and friendly place for all who participate in it. In order to promote a strong, healthy game for all participants these guidelines have been established to help guide all players within our group.

1.) All players are asked to please read the post before responding to it and to please post any responses in a timely manner. Each player is expected to post a minimum of one post every four days. A post is expected to be written in third person narrative format and be between 2 and 3 paragraphs long. One sentence responses are only acceptable to tags. A tag should be responded to within 48 hours. We do ask that you check your spelling and grammar and we ask that you be patient with others' spelling and grammar. Players should also avoid unprofessional language, texting shorthand (eg., UR, np), and should try to be clear with their responses.

2.) If another player made the point you wanted to make, you can agree with them and elaborate further, expand on the idea, take it in a different direction, or come up with a different approach altogether. Players should avoid responding immediately if they are upset. If a post upsets you, take a moment before responding. If you write something while angry please review your response carefully before posting. Remember that once your thoughts are posted they are free for everyone to read and even if they are removed the impact has still been made.

3.) We do not tolerate any participant writing for a character who does not belong to them unless you have authorization from the owner of the other character. If you want your character to interact with another person's character you may tag them or do a joint post.

4.) All players are permitted to hold as many characters as they can actively maintain provided that they do not fall behind on posting requirements. If a player is going to be unavailable for a period of time, he/she will request a LOA through their Dashboard Control Panel on NOVA.

5.) Harassment of any type will not be tolerated by the Game Masters and participants of this game. In the event that a player is accused of harassment toward another player an investigation will occur to determine the origin of the harassment, the effect of harassment, and level of impact of the harassment. Following investigation a decision will be made regarding potential resolution. The owners and operators of this group reserve the right to terminate membership of any participant and/or groups of participants with or without cause. Conversely a participant and/or group of participants may terminate their membership with or without cause at any time.

Tip: On a more practical level, it's often useful to type out responses in word processing or text editing software to refine before posting them, in case there's a problem with the browser or the software. Then copy and paste them into the discussion post.

Posted on Sun Jan 31st, 2021 @ 4:06am by Admiral Willian Targaryen in General News
Greetings Everyone,

I am very pleased to announce that we are moving forward with the spin-off game for Starfleet One, currently titled Federation One.

Federation One is a new game that we are launching set in the 32nd Century, approximately 6 months prior to the events of Discovery Season 3's episode "That Hope is You, Part 1." While this will be set in the era of Discovery, we will be giving all players the option of continuing on with their current characters in this new game.

But wait because there's more!

Starfleet One will also be continuing as it currently is in the 25th Century. We have a plan in place to explain both of these games being in play with the same characters so no need to worry about that. You can choose to play in Starfleet One, Federation One, or you could be in both.

Starfleet One will continue to be played from http://sf1.16thfleet.com
Federation one will be played from http://f1.16thfleet.com

To show that they are based on the same game you'll notice that the sites look almost exactly the same, except the image of the ship has changed.

We plan to launch the game concurrently with an upcoming post of Starfleet One. If you're going to participate in Federation One please start joining the new site as soon as possible.

Thanks!

WT
Posted on Fri Oct 30th, 2020 @ 2:21am by Admiral Willian Targaryen in Out of Character
Greetings Everyone,

We've had some exciting changes over the last few days, one of which I am very excited to announce tonight.

Please join me in welcoming Kate to the group as our new Assistant of Security: Lieutenant Elizabeth Reeves.

We will be beginning our next mission early next week. It's sure to be a lot of fun!

WT
Posted on Sat Oct 17th, 2020 @ 4:32am by Admiral Willian Targaryen in General News
Five years have passed since the Confederacy of Vulcan joined with their cousins in the Romulan Free State and established the new Romulan Star Empire in their wake. Since then they have been working to reestablish themselves as a galactic power. Deep inside the upper echelon of the Romulan Government the United Federation of Planets has placed a mole intent on ending the Romulan threat once and for all.

"Current projections indicate that the Romulan Free State will fall within the next decade due to the loss of population and resources due to the emergence of the Romulan Republic. Prior to reunification this would have made the Romulans increasingly desperate and a desperate animal is a dangerous one. With reunification Vulcans will supplant the Romulan hierarchy at which time we will then proceed to cease hostilities and apply for Federation membership. The Federation will have conquered the entire Romulan Free State without firing a single shot."

It was a dangerous gamble, but may be about to pay off. While escorting the President from a meeting on Qo'noS, Starfleet One has received a cryptic message from the Confederacy of Vulcan. "Cheese." Now the race is on to uncover the hidden meaning behind the message that may determine the fate of the entire galaxy.
Posted on Sun May 3rd, 2020 @ 4:31pm by Admiral Willian Targaryen in Out of Character
To ensure that everyone involved is having a good time and to limit potential problems with simming, we have designed posting guidelines to be kept in mind while writing for your characters.

1.) Each player in Starfleet One is expected to post a minimum of one post every five days during an active simming period. Posts should be a minimum of three paragraphs long and should be written in the third person narrative format (similar to what you would find in a novel). One sentence entries are not acceptable as a post.

2.) Tags should be responded to as soon as possible, within a minimum of 48 hours, to allow for story flow and all players to have maximum involvement with the group. When working on a joint post, players will ensure that all tags are answered before posting the message to the entire group.

3.) Starfleet One does not tolerate writing for another persons character unless you have authorization from the owner of the other character. If you want your character to interact with another person's character you may tag them or do a joint post. Further, posts of an overly sexual nature ARE NOT permitted in this group. Violation of this rule will result in an immediate discussion of your status by Game Masters of the game with penalties being decided based upon the infraction.

4.) All Starfleet One players are permitted to hold as many characters as they wish to provided that they can actively maintain each character and don't fall behind on posting. If a player is going to be unavailable for a long period of time, he/she will request a LOA through their Dashboard Control Panel on NOVA.

5.) Promotions are based upon a merit and nothing else. You will be promoted based upon your activity, contributions, and by following the rules. Additionally, a player may choose to leave the Starfleet One roleplaying game at any time with or without cause. The Game Moderators may, conversely, remove a player with or without cause as deemed necessary for group operations.
Latest Mission Posts
Mission: Cheese
Posted on Sun Jun 6th, 2021 @ 5:29am by President Gruzy of New Xindus & High Commissioner Jasmine Haynes
As part of its refit Starfleet One had been outfitted with an ambassadorial section unrivaled in Starfleet. Located in the center of the Saucer Module, the Ambassadorial Section was dominated by an exact replica of the Federation Council Chamber that could be used by those traveling aboard to attend Council…
Mission: Cheese
Posted on Sun Jun 6th, 2021 @ 5:26am by Fleet Admiral Luzol Targaryen & Commander Galatea & Commander Ash Randall & Lieutenant Commander Patton O'Sullivan & Lieutenant Commander Lily Snow PhD, MD & Captain Nathan Bishop & Lieutenant Commander T'Lisha "Hawkeye" Bishara
[Starfleet One]

"Where is my husband, Galatea?" Admiral Luzol Targaryen asked fiercely as she stalked through the Bridge of the ship.

The holographic artificial intelligence rose from the center seat and walked toward her Commanding Officer, "Admiral Targaryen transported down to the surface of Ni'Var 20 minutes ago, Ma'am. He…
Mission: Cheese
Posted on Mon Jun 7th, 2021 @ 3:45am by Rear Admiral Greg Coulson & Lieutenant Ilbis Ilkun  MD & Admiral Sakkath & Admiral Xeri Tei & T'Han & Commander Nathan Hawkins & Lieutenant Dylan Blake & Lieutenant Cyrus Marner
"This is crazy, this is crazy, this is crazy," Rear Admiral Gregory Coulson repeated to himself over and over as he stood in the shadows of the alleyway. It had only been a short while since he launched his mission to Ni'Var to rescue his friend, but it had felt…
Mission: Cheese
Posted on Fri May 28th, 2021 @ 3:44am by Lieutenant Ilbis Ilkun  MD & Admiral Sakkath & T'Han & Commander Nathan Hawkins & Lieutenant Commander Chire & Lieutenant Dylan Blake & Lieutenant Cyrus Marner
The V'Shar Officers held their disruptors out and set on the maximum settings as they escorted their prey through the streets of Ni'Var. It had only been half a day since they had arrived in orbit and what had looked like it was going to be a peaceful, friendly exchange…
Mission: Cheese
Posted on Fri May 7th, 2021 @ 8:37pm by Lieutenant Ilbis Ilkun  MD & Admiral Willian Targaryen & Commander Nathan Hawkins & Lieutenant Commander Patton O'Sullivan & Lieutenant Commander Chire & Lieutenant Commander Lily Snow PhD, MD & Lieutenant Dylan Blake & Lieutenant Cyrus Marner & Lieutenant Zoey Parker & Captain Nathan Bishop & Lieutenant Commander T'Lisha "Hawkeye" Bishara
[Ni'Var]


Doctor Iblis Ilkun felt the warm breeze of the Vulcan air touch his skin and couldn't help but feel exhilarated. He loved serving on ships, it had been a passion of his since he was a young officer, but there was something special about breathing real air instead of…